ZOA is a clean and healthy energy drink brand co-founded by Dwayne The Rock Johnson.
It contains Essential Aminos, Camu Camu, Turmeric, Antioxidants, Acerola, Choline, and many healthy vitamins. ZOA is caffeinated by 160 mg of natural caffeine from green tea extracts and green coffee beans.
According to its website, ZOA is designed to strengthen the immune system while improving attention, providing hydration, increasing amino acid intake, and boosting energy levels.
Ingredients in ZOA
Before buying any energy drink, go through its ingredients list to ensure it does not have any substance that you are sensitive to or allergic to.
ZOA contains the following ingredients:
Carbonated Water
Sugar
Stevia Extract
Citric Acid
Natural Flavors
L-Isoleucine
L-Glutamine
L-Agen
L-Citrulline
Cyanocobalmin
Beta-Carotene Color
Natural Caffeine
Potassium Citrate
Magnesium Lactate
Green Tea Extract
Acerola Juice Powder
Choline Bitrate
Camu Camu Extract
Turmeric Extract
ZOA also delivers the following vitamins:
Ascorbic Acid (vitamin C)
Niacinamide (vitamin B3)
Calcium Pantothenate (Salt of vitamin B5)
Pyridoxine Hydrochloride (Vitamin B6)
Thiamin (vitamin B1)
Riboflavin (vitamin B2)
Folic Acid (vitamin B9)
Cholecalciferol (Vitamin D)
Nutritional Facts of ZOA
| | |
| --- | --- |
| Content | Amount |
| Calories | 100 |
| Caffeine | 160mg |
| Total Fat | 0g |
| Sodium | 200mg |
| Total Carbohydrate | 2.4g |
| Total Sugars | 23g |
| Includes Added Sugar | 22g |
| Protein | 22g |
| Vitamin D | 5mcg |
| Vitamin C | 90mg |
| Vitamin B1 0.3mg | 0.3mg |
| Vitamin B2 16mg | 16mg |
| Vitamin B6 1.7mg | 1.7mg |
| Vitamin B5 1.3mg | 1.3mg |
| Vitamin B12 2.4mcg | 2.4mcg |
| Magnesium | 10mg |
| Potassium | 80mg |
| Thiamin | 0.3mg |
| Folate | 100mcg |
| Choline | 20mg |
ZOA Nutritional facts table
Flavors of ZOA
ZOA comes in the following 5 flavors:
Original
Super Berry
Lemon Lime
Wild Orange
Pineapple Coconut
All flavors of ZOA energy drinks have 3g of carbs, zero sugar, and just 15 calories per 16 fl. oz. can.
Can You Buy ZOA at a Physical Store or Online?
ZOA is sold all over the USA. If you cannot find it at your local store, then fret not! You have to enter your area's zip code on ZOA's store locator page, and you will get the locations of all the stores selling ZOA near you.
But if you live in another country, then you cannot find them in stores, so it is better to look for them online.
Considerations When Buying ZOA Energy
Before you buy any product, keep in mind the following factors:
Location
Ordering energy drinks is often more expensive than buying them in person at a local shop. However, this may vary depending on where you live or the availability of stores in the vicinity.
If there aren't many physical businesses around that offer energy drinks, shopping online may be your only alternative. In this scenario, it is probably worth paying a bit more for convenience.
Shipping Charges
Shipping charges are a big turn-off for some individuals while shopping online. You can avoid them by shopping stuff in bulk, so that you may get free shipping, but that is not possible for everyone.
Quantity
If you buy 30 or even 50 cans per month, then shopping online would be a better option for you. You will get free delivery, but if you just have to buy one or two cans, then going to a physical store is a much better option.
Pros of Buying ZOA Online
Promo Codes or Coupons
The best thing about buying online is the coupons. You can get different discount offers, promo codes, and coupons to save you some bucks online.
No Hassle
Buying your favorite energy drink while sitting on a sofa sounds good. Shopping online is comfortable, and you don't have to leave your house to go to the supermarket just to get some energy drinks.
Reviews and Ratings
The thing I really like about shopping online is the reviews. You can find plenty of reviews to decide whether to buy a particular product or not. You can also find a dozen reviews about ZOA and decide for yourself whether it is worth buying.
Price Comparison
You can easily compare the prices of ZOA being sold on different websites and decide for yourself where you will get the best price and lesser shipping charges.
This is far more difficult to do at a physical store because you would have to visit different places and take notes on prices to compare them.
Cons of Shopping ZOA Online
Shipping Fee
Like I said before, pricey shipping is always a turn-off for people. If you live outside the USA, then you have to pay a higher shipping fee to get ZOA which is sometimes more expensive than the drink itself.
Shipping Time
Packages can take from 1 day to a week at maximum to ship to your doorstep. Sometimes it even takes a month for people living in other countries before they receive their order, this can be very inconvenient for someone who wants to have their energy drinks urgently.
Damaged Goods
While shipping, the boxes containing the energy drink cans often get damaged. This results in dented cans, and sometimes they even burst.
Pros of Purchasing from a Physical Store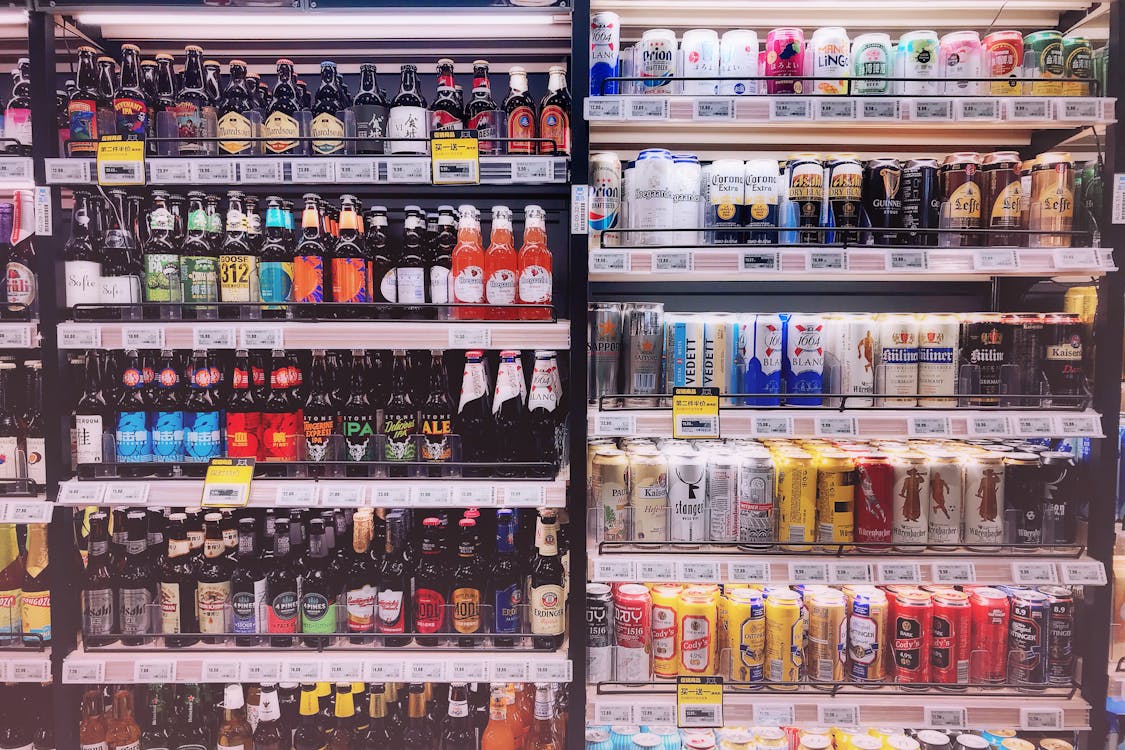 Authentic Buying
You can touch and see whatever you buy from a store directly. Plus, you can buy a drink and gulp it down immediately.
There's no shipping time and charges, or any other hurdle. That's why most people love going to the store rather than buying online.
No Damage
At a physical store, you buy after seeing and touching the product. After double-checking that the product is sound, protected, and there are no dents or leaks.
Disadvantages of Purchasing from a Physical Store
No Review or Rating
There are no reviews of satisfied customers written on the wall of any store. So, you got to buy it without confirming whether it's good or not.
Limited Options
A physical store only offers limited brands of energy drinks. For example, if you are looking for a vegan energy drink, you may not be able to find it in a store. You will have to check two to three stores to get your drink.
Also, some flavors might not be easily accessible in physical stores.
Where to Buy ZOA Online?
You can buy ZOA through its website. It is also available in all the major online marketplaces like:
Amazon
Amazon is the most popular e-commerce website. They provide competitive rates, dependable shipping, a vast product catalog, and shopping security, and they tailor their items on display to each unique buyer. You can buy ZOA at a range of prices starting from around $30.
eBay
eBay is one of the Internet's oldest and most popular e-commerce platforms. ZOA is available on eBay with a slight difference in pricing. On eBay, a pack of 12 16 fl. oz cans is priced at around $50.
GNC
GNC is an authentic one-stop-shop. It sells sports equipment, supplements, protein powders, vitamins, cosmetics, and general health and well-being items online.
GNC was one of the first to offer ZOA online. If you go to gnc.com, you can find the ZOA energy drink for around $30 for a crate of 12 cans.
InstaCart
Instacart allows you to purchase from local grocery stores online and have a "personal shopper" fulfill and ship your order the same day. It is selling each 16 fl. oz. can for about $3.5.
The Vitamin Shoppe
The Vitamin Shoppe sells energy supplements. Customers can choose from a wide range of high-quality supplements, including multivitamins, letter vitamins, and minerals. It is selling a pack of 12 (16 fl. oz.) cans for roughly $30.
How Many Calories are in ZOA?
ZOA offers two versions of its energy drink:
A 100 Calorie version
15 Calorie (Sugar-Free) version
An original can of ZOA energy drink has a lot of calories in it. If you're trying to lose weight, this energy drink may be detrimental to your efforts.
However, the sugar-free version is a good option if you want to cut down on your calorie intake.
Is ZOA Vegan?
ZOA Energy does not adhere to a vegan diet. However, all the components are suitable for vegetarians. ZOA Energy's excellent mix of caffeine, vitamins, and necessary amino acids maintains its efficacy.
Moderate consumption of this drink can improve your mood and keep you energized for an extended period.
If you are a vegan, you can try these vegan energy drinks!
Is ZOA Gluten-free?
Yes, according to its website, it is 100% gluten-free. So gluten-sensitive individuals or people suffering from celiac can also buy ZOA to gain energy.
If you are gluten intolerant, you can also try these gluten-free energy drink options to get energy and alertness!
What Does ZOA Taste Like?
These taste quite like Red Bull, similar but less cloying. Furthermore, according to the reviews, the sugar-free version (sweetened with sucralose and ace-K) tastes better than the sugar-containing version.
Below is a review to help you know more about the ZOA energy drink:
Other Alternatives
Alani Nu
Alani Nu Energy Drink has ten calories per can and is sugar-free and gluten-free. The drink claims to boost endurance, energize the consumer, and aid in weight loss. The different ingredients used in the product's formulation were chosen with caution.
Alani Nu energy drink is available at Target, Amazon, GNC, The Vitamin Shoppe, Kroger, and QuikTrip locations across the United States.
NERD Focus
NERD Focus is your "Think Drink". It's something you drink to improve clarity and focus, memory and cognition, and overall brain health with potent nootropics and performance-enhancing ingredients. It is available all over the USA, you can find it through their store locator in stores near you.
Final Verdict
While there are various online markets where you can buy ZOA, look for the most convenient and cost-effective option. It's always better to consider the reviews on the online stores before making the purchase.
Aside from that, make sure to check the extra ingredients on the label. Consider purchasing energy drinks that contain a variety of helpful elements to improve your health as well as your energy levels.
Other Notable Mentions
Related articles